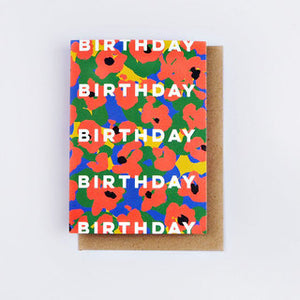 This is a fun birthday card that isn't too soppy. It has a straightforward message and a bright painterly floral print. This graphic card is blank on the inside so you can customise however you like- write the perfect birthday message.
It's an A6 card, printed in the UK on 300gsm Fresco Gesso FSC certified paper, which gives it a lovely texture and rich colours. Comes with a kraft envelope and is packed in a biodegradable film bag.
 You can see the rest of the collection here.