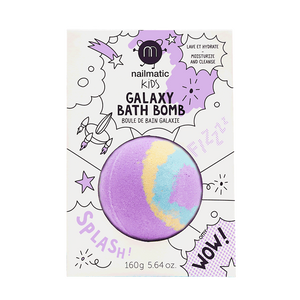 Switch the bathtub for a spacecraft, why not? Our Pulsar Bath Bomb makes budding astronauts escape in a playful yet soothing aquatic world. 
Lightly scented, cleansing and effervescent bath bomb for kids. 
Looking for a relaxing formula that helps children bedtime routine? You're gonna love this!!
Vegan, cruelty free, preservatives free.
The sweetest formula for little skins
- Citric acid for PH régulation and natural effervescence
- Camomille extracts for a soothing and hydrating action
- Sunflower oil to nourish and regenerate fragile and sensitive skin
- Sweet Salmond oil with hydrating properties
- Vitamine E, a natural anti-oxydant preservative agent
Recyclable packaging, made with vegetable ink. 
Dermatologically tested 


For kids aged 3 and over, under adult surveillance
Made in EU (Poland)
Discover all Nailmatic Kids products here!