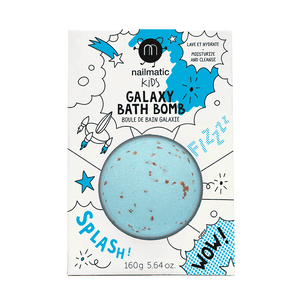 Wash the day away and pacify little monsters in one single toss? One happy blue soak and kids will drift off to sleep in no time. 
Lightly scented, cleansing and effervescent bath bomb for kids. 
It turns the water into a blue paradise cruise!
Vegan, cruelty free, preservatives free.
The sweetest formula for little skins

Citric acid for PH régulation and natural effervescence
Camomille extracts for a soothing and hydrating action
Sunflower oil to nourish and regenerate fragile and sensitive skin
Sweet Salmond oil with hydrating properties
Vitamine E, a natural anti-oxydant preservative agent

Recyclable packaging, made with vegetable ink. 
Dermatologically tested 

For kids aged 3 and over, under adult surveillance
Made in EU (Poland)
Discover all Nailmatic Kids products
here
!