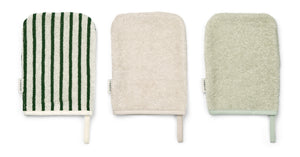 CHILDREN'S WASHCLOTH - 3 PACK
What better way to lure a reluctant child into the bath than with a talking doll in the form of a washcloth? Sylvester's multi-functionality allows you to wash, entertain and play with your child.
Material: 100% organic cotton terry
3 pack
Dimensions: LENGTH (CM) 21, WIDTH (CM) 15
More Liewood here.