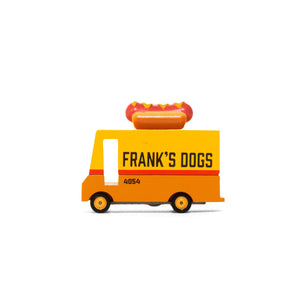 Nothing says NYC like a hot dog stand. As New Yorkers, we must pay tribute to the hot dog – it's the quintessential New York street food. Our hot dog truck is a minimalist, design-focused, vehicular interpretation of the hot dog stand with a mustard-yellow top and a perfectly toasted base. Don't worry, we skipped the dirty water.
Help develop imagination, Helps develop fine motor skills
Age : From 3 years old
Fabrics : Solid beech wood, ABS plastic
Composition : watercolour, Transparent urethane layer
8,4 x 4 x 6,6 cm
Weight : 170 g
Complies with US CPSIA standards
Clean using a damp, clean cloth
Check out all Candylab here!