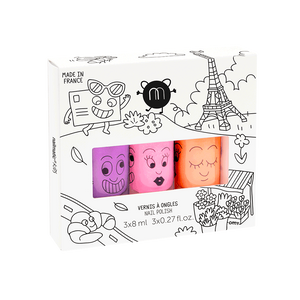 Welcome to our neon summer club! With 3 awesome pearly colours, this luminous set is clearly a must have for kids. No remover needed, just wash it off with soap and lukewarm water. A 54% water-based, vegan, cruelty-free and made in France formula. 
brand: Nailmatic Kids
from: Paris
doesn't contain harmful chemicals
+ 3 years
colours: Marshi, Dolly & Flamingo
beautiful packaging designed by Omy
Discover all Nailmatic Kids products!