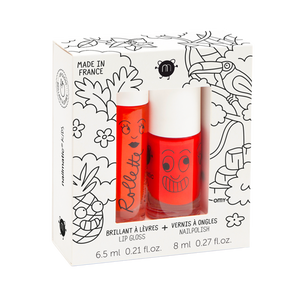 This water-based nail polish is designed for kids! A gentle, water-based product that is 100% safe and 100% fun! Guaranteed to be free from phthalates, formaldeyhyde, toluene and fragrance. Dermatologically tested. It's easy to remove using warm water and some soap making it ideal for the little ones. 
The Nailmatic Rolette with 97% natural ingredients, containing apricot kernel oil, boosted with vitamin E and enriched with omega 6 and 9 is the perfect lipgloss for the softest lips. Imitating grown-ups without having to worry about harmful products? Check!
The playful packaging is designed by Omy, recyclable and printed with vegetable dyes.
brand: Nailmatic Kids
from: Paris
doesn't contain harmful chemicals
black current lipgloss + kitty nail polish
playful packaging designed by Omy
Discover all Nailmatic Kids products here!