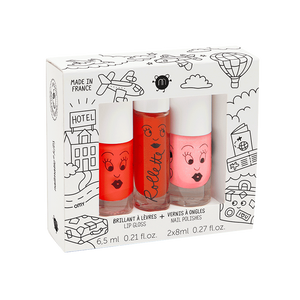 Take your Kids to a beauty world tour with nailmatic! With 2 water-based pink polishes and 1 glossy lip care, little monsters are all set to go have fun!  Vegan, Cruelty-free, Made in France. 
This set contains 2 water-based nail polishes + 1 fruity lip gloss for children: total dream gift!
R.E.S.P.E.C.T formula: 100% Kids 100% Fun, 

Our nail polishes: 

54% water, vegan, cruelty free.  
We chose a preservative commonly used in organic products (as in COSMOS certified): benzoate sodium. A friendly yet efficient ingredient that occurs naturally in apples, prunes and plums. 
They want to change and try a new colour? Easy: it's washable with soapy lukewarm water. 
Our rollette?
Colourless, natural and fruity lip gloss!
Based on apricot kernel oil, its magic formula contains 97% of ingredients of natural origin. 
Enriched with vitamin E + omega 6 and 9 to moisturise the lips. 
This World Tour set has been totally made in France with local partners, from creation to manufacturing to packaging. 
Discover all Nailmatic Kids products here!