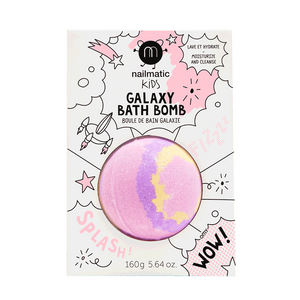 Dabbling in a bubbly galaxy, what a dream! Dive this colorful planet into water and the bath will become the place to be for the kids.
This bath bomb cleverly named Supernova turns the bath into a pink milky way.
Lightly scented, cleansing and effervescent. 
A moisturizing cocktail that respects kids sensitive skin, full of super powers:
- Chamomile (relaxing properties, yay)
- Sweet almond oil
- Sunflower oil
- Vitamin E
Especially formulated for children. 
Vegan and cruelty free.
Preservatives free.
Discover all Nailmatic Kids products here!